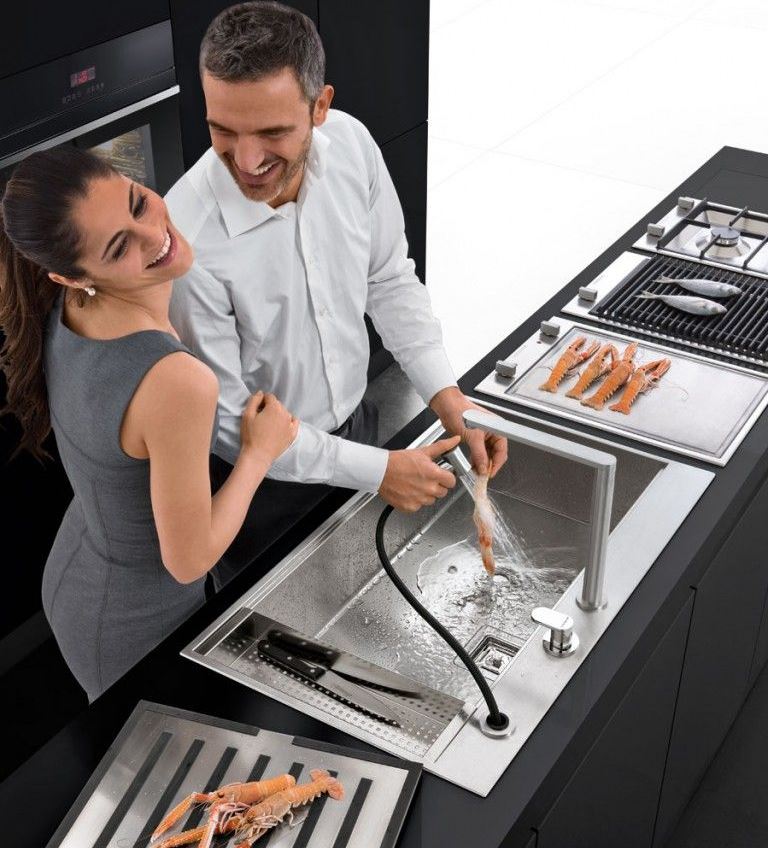 Kitchen Equipment (Sink)
Modern life has increased the need for speed and ease in carrying out everyday tasks. and every day we see a new device to improve these needs. kitchen equipment was no exception, and the market is full of competition to offer the newest kitchen utensils. The efficient tools that have made the process of doing things easier.
sink:
It may be interesting to know that the sink is not the same single or double steel models that we know and see in many homes. Today we will talk more about different types of dishwasher sinks in terms of material.
The sink is one of the accessories that we do not pay much attention to the important details and points when buying it. For example, many people may not be familiar with the types of sinks yet, just know it as a single or double steel product, or finally, which is installed as a built-in or surface.
But this is not the whole story, and this product is made of different types in terms of materials. The sum of these factors also causes the price of the sink in the market to be variable. In this article, we want to say more about the types of sinks in terms of construction material.
Steel sink
Undoubtedly, the most widely used model of sink is the example of all steel or stainless steel that many of us know and use this model in our homes. Different companies produce steel sinks, the main reason for this is to look for in the features of this model. Among the types of Akhavan and Alborz steel sinks, Leto and…, you can see the all-steel model.
Granite sink
If you are tired of sediment and cleanliness in your dishwasher, look for a granite sink. These types of sinks are among the newest on the market, with 80% of these sinks being quartz granite and 20% resin. Antibacterial protection, less absorption of water and dust, as well as less cleaning are the prominent features of this model of sinks. These types of sinks are placed between steel and glass sinks in terms of strength and the possibility of breaking. Various colors of granite sinks, including brown, smoky, cream and beige, have brought a beautiful appearance to this category of sinks.
Stone sink
If you are special and you always want to be different, a stone sink can bring a unique effect to your kitchen. Think of a luxurious kitchen with wooden cabinets and stone facades on the cabinets and sinks to lose your mind.
To make this model, manufacturers go for natural and artificial stones such as marble, corin or soapstone, each of which has its own unique properties. But in general, exemplary beauty, high quality and strength, different appearance, easy cleaning and good color variety are their most important features.
Copper sink
Nowadays, when the use of copper utensils has become very fashionable again, why not a copper sink in our kitchens? This model also has its own unique features, but perhaps the most important feature is its beauty and distinction from other models.
This sink also has acceptable strength and durability, its beauty is remarkable and it is not difficult to clean. But one thing you should know is that after a while it may become duller than before.
Ceramic sink
The last option is the ceramic model, which despite its good strength and resistance, has a reasonable price and its cover is considered to be glazed pottery. The beauty, strength and radiance of this model are the main reasons that buyers go for it.