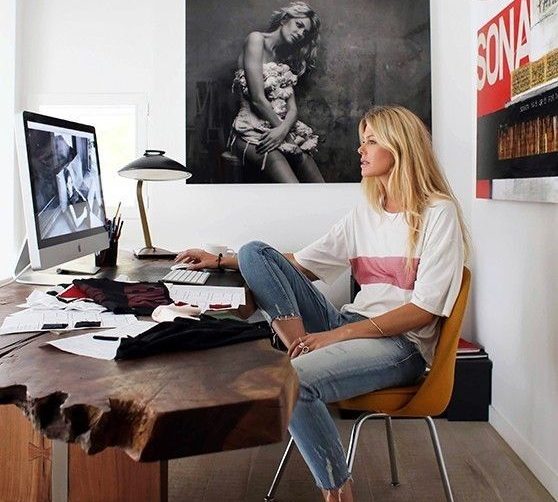 Work Room (Home Office)
A home office is a space in the home that consists of elements such as a desk, library, shelf, and so on. These spaces usually have a certain peace and quiet and are also very suitable for studying and doing different work or study projects.
Working and making money from home has become very common these days. With today's technology, most people can do many of their favorite tasks with a computer system without having to be in a specific company or place. It is very important to have a calm and orderly space in which we work.
Room Dimensions:
Usually, in the most optimistic scenario of the environment, if you are free from space constraints in plan of your home, and you can easily consider the room's environment to work at home, you can allocate 12 to 15 square meters.
It will also have to be easy access to the front door for this environment, as some of the time your colleague will want to meet you at your office and you will have to live in your home environment, and if access to the office is far off, your colleague will have to cover your house's privacy and privacy and it will be very bad for you to break your family's privacy.
Desk:
To work with the computer, take notes, study, etc. The most important element of your desk. A standard desk of the right size can greatly increase your productivity. Having desks that are not adjusted to fit your height and viewing angle can quickly tire you out.
Dimensions depend on the amount of space available to allocate to your workplace, but in the normal and standard state of the home desk should include the following specifications. (Its width and depth are from 61 to 122 cm, length 122 to 190 cm and height 60 to 76 cm).
Depending on you, you need to use the desk that has many drawers. The existence of a drawer next to the desk will enable you to have a lot of cases or items that you need to keep in handy.
Chair :
The comfort, health and relaxation of your limbs largely depends on your chair. Wheelchairs are one of the most common types of chairs for the home office. Chairs designed for gamers are among the most comfortable chairs that fit your spine better. If you care more about the beauty, style and simplicity of your home decor, you can buy softer and simpler chairs.
Bookcases and bookshelves:
For people who read more, having a library full of different books makes them feel good. You can make shelves in different designs, sizes and models according to your needs.
It is better to apply the library in this location as I have hinted in the study of the work room, which follows the characteristics of insulation and studies, and opens the bed for easy access to any kind of books and study.
lighting:
In the case of the workroom, we have to use our light spectrum in two ways. First of all, pay attention to the lights that meet your need for performance and role-playing about your work, such as hidden ceiling lights and lights that have a scattered spectrum and do not directly direct light into the environment, and the second case is spot lights. The most striking is the reading lamp that you deal with regularly and you should use automatic lights that can adjust the light.
Many studies show that high color temperature lighting, approximately 3500k, directly affects the level of our creativity and learning, and makes it easier for us to obtain information and focus on our tasks.
The higher the color temperature, the higher our focus. That's why we recommend using 5000k or higher lamps for your office. Ceiling lights or pendant lamps are not suitable for the study. Use indirect light in the room. Instead of chandeliers or moonlight, use spot lights to illuminate your office space. Lampshades or study lights with soft light and without creating too much heat are the best option to create suitable local and focused light.
If the space you look at home for your office in your house has large windows, you need to know that the reflection of the light may fall on your screen and annoy you. To avoid distracting the sun, you need to choose the right screen for your window. It's best to pick out the curtains that light passes in some measure and don't move into your room.
Color:
One of the most important issues we need to pay attention in the work rooms is to choose a relaxing color. It is because, if we are to have great progress in our work environment, the three pillars are very important, which are also referred to in the field of psychology.
The first case is the color used in the medium, which should not be used in harsh colors, such as yellow, orange, and orange, and one of the reasons that use mostly brown / white / grey / blue color is to instill peace to the environment.
The second case of insulation is the proper insulation of sound in your office or home because one of the most important reasons that can be done by removing the person's focus in the environment is to be heard outside the environment.