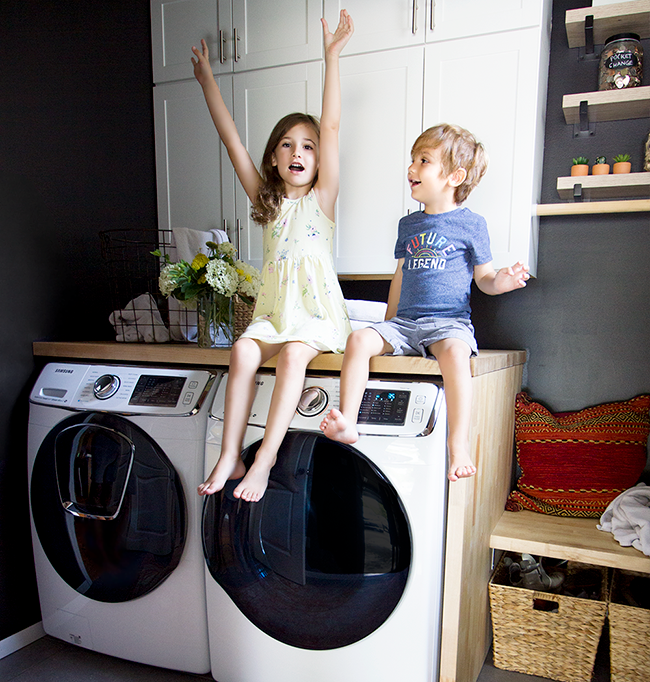 Laundry layout
Designing a laundry room with a stylish and modern layout and planning and observing all aspects is one of the important points that should be very important in small spaces. Questions such as where in the house is a Roman laundry considered? And what tools and equipment does it include? Answered in the laundry design section.
But before that, you need to know that the laundry design is made according to the family's needs. For example, the number and volume of clothes that are entered into the laundry to be washed away are the types of cabinets that are to be incorporated in the laundry, the existence of folding wardrobe and other items in the laundry design.
The layout of the Roman laundry depends on its dimensions. In this section, the best laundry room layout for small spaces is examined separately. But in general, the layout of the Roman laundry includes cabinets and shelves, each of which is used to place a device.
Shelves:
The use of cupboards, cabinets, drawers and shelves keeps you clean and tidy. For small spaces, it is better to use cabinets or suitable spaces for storing clothes and related items.
When the area you want for Landry Room is small, you need to make arrangements for the correct layout. For example, design cabinets and shelves in such a way that the walls are used optimally. For example, you can have floor and wall cabinets and shelves at the same time, or you can use several drawers to store the necessary items. You can also use wall shelves or floors to store detergent.
Counter space:
Large kitchen counters are useful when separating the washing machine, loading and unloading the washing machine and dryer, and of course when folding clean clothes and towels. If you have a small laundry room that does not allow large counters, install a folding table that can be attached to the wall or folded if not used.
sink :
No one likes to wash laundry or even a piece of clothing by hand. But, sometimes it has to be done. Having a sink in the laundry room provides an easy way to wash clothes and wash delicate laundry utensils, without the need to clean or occupy the kitchen or bathroom.
Washing:
The washing machine is the main element of the washing room. Therefore, its location in the Roman laundry space is very important and special attention should be paid to it. The washing machine should be installed in such a way that it is easily accessible. For ease of use, there should be enough space in front of the washing machine door. Also, the installation location should be chosen in such a way that, if necessary, access to the back of the washing machine is easily provided and there is no need for many movements in the room to make possible repairs.
dryer:
Having a place for the items that need to be dried is a big advantage in the laundry (clothes hanger that hangs from the door handles or kitchen cabinets!) Installing a heater directly or even installing a dryer there is a clever design. The space set aside for hanging is also useful for clothes or clothes that have just been ironed.
Ironing board:
Speaking of freshly ironed clothes, ironing boards usually take up a lot of space. Even lifting ironing boards or moving ironing tables that fit inside the counter or cabinet table. Ironing tables should be selected in appropriate sizes. A sliding ironing board can be completely hidden like a drawer and can be opened and used quickly if necessary.