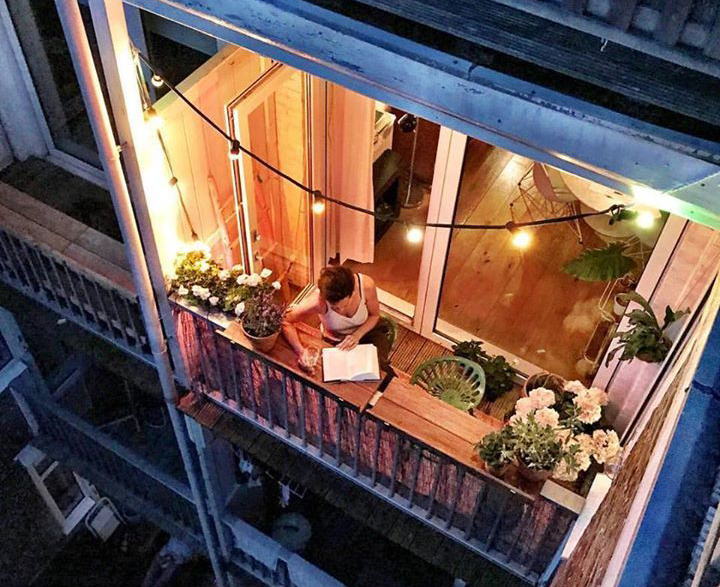 Terrace and balcony flooring
The house's house balconies will be used with enthusiasm if it's time to build and take a beautiful design. If we use the balcony decoration design, this space is a good place to use the beautiful autumn and spring evenings.
Many people in their small houses don't know the balcony so much. The balconies are exposed to open air and should have the flooring that has high resistance in the cold and warm seasons of the year. In this section, we examine the different types of flooring that are suited to cover the balcony floor.
Wooden flooring
It creates special and unique beauty in any space that is being used, which is seldom found. The wooden flooring is the most preferred flooring that is used in different parts of the house. You may imagine that the wood has little resistance to certain moisture and weather and therefore it is not possible to use them in the balcony space. in case of application of the protective layers on the wood, it goes up against the moisture and will not have a limit to use. So if you are interested in these materials, you can easily reach this goal by choosing the right kinds.
Tile flooring
The tiles have specific and varied patterns. The tiles will be a good option for those who care about the beauty and the creation of certain projects. In addition, the tiles are highly resistant to the different environmental and climate conditions. With the help of the tiles, the panels can be created to show the dimensions of space. For example, if you have a small balcony, you can show the room using appropriate tiles.
Grass flooring.
Lives lives cause many people to stay away from the green space and nature. But there is no room for concern, as the appropriate flooring for the people of nature and lover of nature can be artificial grass floors. The flooring is capable of soaking wet and will ease the verandah of its house by covering the flooring and gathering various flowers into a peaceful atmosphere.
Plast wood flooring:
Plast wood is actually an industrial material that is a combination of wood fibers and recycled plastics. Plast wood flooring is very similar to natural wood (wood-plastic flooring!).
But it is more resistant than natural wood for outdoor use, does not corrode, does not bite, does not absorb moisture and is easy to wash.
Plast wood is the best option as a suitable balcony flooring for those who have more specific ideas for balcony design. Because the price of Plast wood flooring is more reasonable than Thermowood, but it can give you something very similar.
Plastic and polymer flooring
There are two ways to use plastic flooring. These floors can be installed both integrated and in pieces like tiles. Plastic flooring comes in a variety of colors and can be easily matched to other fixtures. Another advantage of plastic flooring is that it can often be applied to existing flooring.
Stone flooring
This type of flooring was known for most of the time, and was now the subject of universal attention. So they will be a good option to use the balcony. because the rocks have high resistance to heat and humidity. Just keep in mind that in cottage houses you can use artificial stones to cover the balconies of natural stones and in flats of flats. The problem with stone floors may be the high price of rock.
Sand and gravel flooring
If your balcony is large enough to take up space as a garden, you can cover the rest of the balcony space with sand and pebbles. Walking on sand and pebbles has its own charm and is less common in less homes.
The splash of water on the stones will create a pleasant odor for everyone. In general, the use of sand and pebbles is a special idea that no one goes to, unless they only use this intriguing idea. So if you 're a fan of difference, try it.
concrete floor
Concrete is also a material against special weather conditions. This feature has made concrete one of the available materials to cover the balcony floor. Many people cover concrete with different types of flooring. But if you do not have enough money to cover it and use the said materials, you can easily create a beautiful, one-handed surface with cleaning and joinery that does not require the use of other flooring.
Each of the materials mentioned has its own beauty, but it is highly subjective in the aggregate use of different floors and this selection depends largely on the interests of the household.