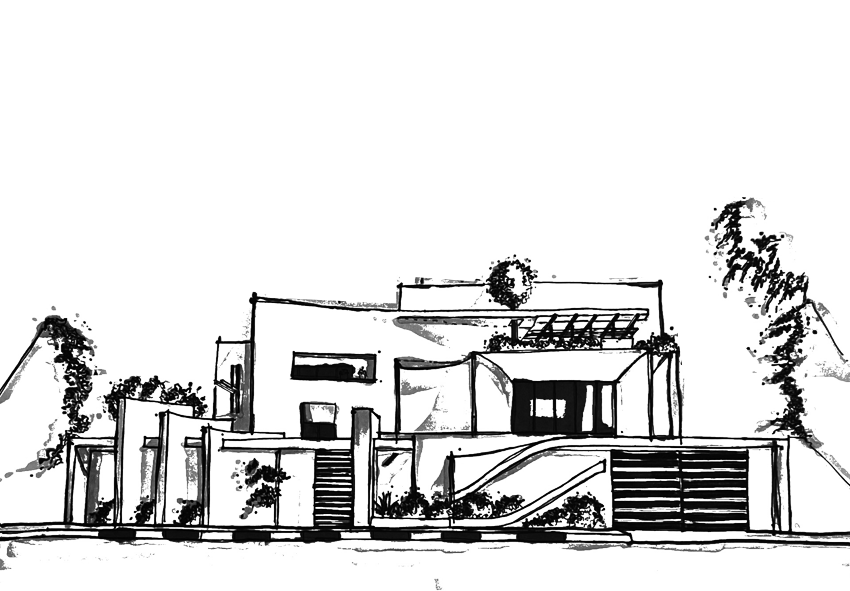 This building is located in Atlantic area in Mahshahr city. The land of this project is about 600m2. The building includes 3 units which one of them is 380m2 and two others are 190m2.
A 5m*5m garden pit is in the yard that has access to elevation code -1.8m through a staircase and when a person is exactly in the garden pit he can feel the rotation of the main volume of the facade on this pit. Also a sitting place and a fountain are installed (considered, designed) in this space.
The main unit is designed in two levels which are distinguished from each other by seven steps in the entrance. Swimming pool and main hall are in the upper level and private hall, cool and warm kitchen and bedrooms are in the lower level. The swimming pool has designed in a different way which is visible from main hall and private hall.
In the upper floor two 160m2 (190m2) units with 3 bedrooms for each, are designed. The eastern unit has an open terrace which is covered by timbers and the western unit has a terrace with lattice and (window frame) ceiling which according to the rotation of the main volume of the building, looks like a trapezium.
Architect:
Mehrdad Esmaeilian
Civil Team:
Gholamreza Adibifar
visualization:
Elaheh allahkarami
related projects