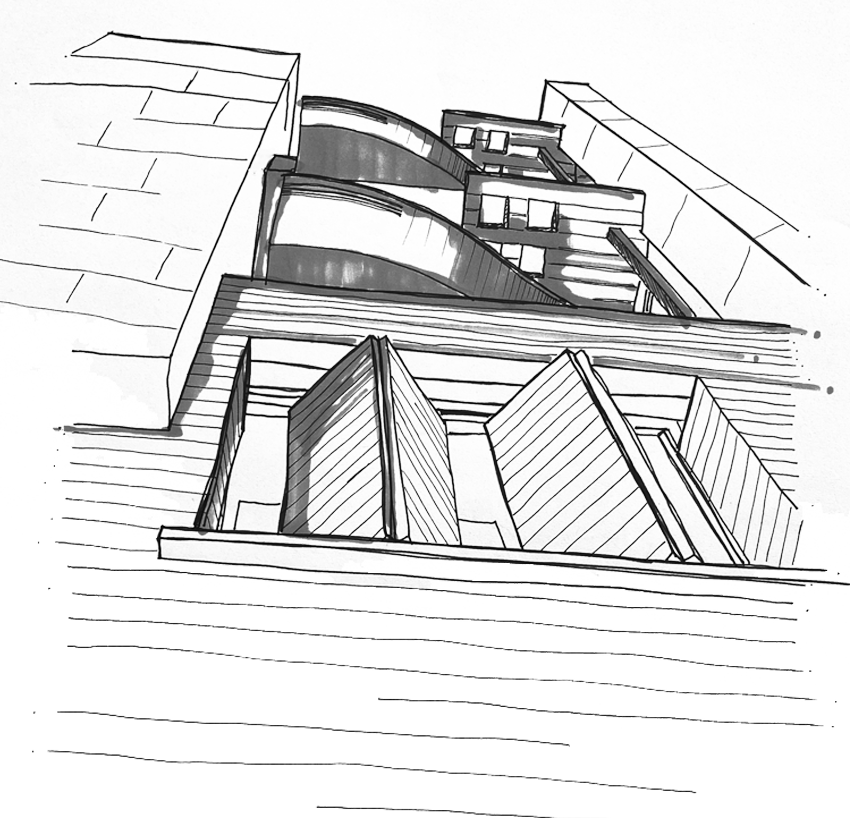 This project is located in Kian abad, Ahvaz and the substructure area is 200m2 which is built in a 410m2 land. This project is constructed in 4 levels. The ground floor includes a 180m2 sitting room and reception hall with service spaces such as pantry, rest room, private room and storage. This place is considered for Arabian ceremonies. The furniture of this place, which are in various dimension, and made of wood covered by velvet, have chosen by the Arabian traditions. The walls of reception hall are a mixture of Abasabad travertine and Twiserkan black striped granite.
A separate access for upper units through a 1.5m2 lobby is considered in residential entrance. The elevator and stairways are also in the same area. The walls in the entrance lobby recovered by Abasabad travertine and at the end of the walls where intersect with upper floors stairways, a garden and an artificial grass are considered. Spotlights are used in all parts of the lobby.
The first and second levels of the project are parts of a duplex unit which is 400m2. These two levels are connected to each other through a circular stairway at the corner of a 7m diameter void. Staircase structure made of steel covered and decorated by Malach wood. The first floor includes reception hall, private hall, dining room, cool and war kitchen and public rest room.
The walls of reception room are made of beech wood. The wood color make the space looks warmer and also in the cool kitchen cabinets color is the same as wood color. Standing cabinets and built-in refrigerator have used in order to make a uniform view from inside of the kitchen and also all stainless steel industrial equipment have used to provide a better service. The second floor includes 3 bedrooms which their area is 14m2 to 25m2 and have their own private rest room, TV room, kitchen, public rest room and laundry. The 4th floor includes one unit that its area is 180m2 and it overlooks the half open yard. This unit also has 3 bedrooms which are almost 12m2. Upper yard has a barbeque and a bower which is considered for the end of winter and the beginning of spring use. According to the building which is personal, the entrance gate height is higher than normal which leads to a more private space. Volume cover in the facade has used for the same reason.
Architect:
Mehrdad Esmailian
Structural Consultant:
Naser Katanbaf
Architectural supervisor:
Ehsan Noorzadi
Structural supervisor:
Ahmad Kochak
Electrical engineer:
Mehdi Fathi
Facility engineer:
Mehdi Sohani
Photographer& 3d visualization:
Mehrdad Esmailian
related projects